Post-performance review of performing in DMT's Movie Musicals Concert.  Photos by Emily Holmes.
The Preparation
After the positive buzz created from DMT's production of Jekyll and Hyde, it was a pleasure to return for more. The concert's format was the brainchild of Lucy Upward, who like many others hadn't performed solos for the group before. She created a list of musicals which started life on the big screen before some of them become popular covers or Broadway hits in their own right. Once she had collected everyone's ideas, the plan was set into motion, literally.
The most wonderful part of the whole rehearsal process was, to my surprise, the choreography. Jacqui Davison gave many of the big chorus numbers dance moves that not only challenged us but made the songs far more dynamic. Songs from the Greatest Showman and Cabaret come alive once the performers are as energetic as the music. It was so much fun harmonizing and physically moving around at each rehearsal!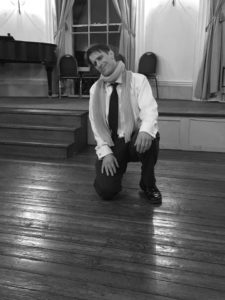 For my own solo, I gave Lucy a list of songs that I would like to sing and let her choose the final song. She choose 'What's This?' from Nightmare Before Christmas. I was initially surprised and a little deflated by the result, but it proved to be the best choice. Not only did it fit into the overall programme better (most importantly), it also pushed me out of my comfort zone. It's not often you get to portray a cartoon skeleton speaking quickly and excitedly about discovering Christmas Town!
The Concert
As we neared the concert, Lucy had us run through the program a number of times so that we were well drilled in performing the songs and knew what to expect from the evening. And yet, call it adrenalin, giving an extra 10% or being on our toes, we all raised our game for the performance itself.
What the event showed was that given an opportunity, every member of the group could step up and deliver a great performance. I was so impressed by all the performers. Some were larger than life, others light-footed, in the moment, animatedly funny or sensational still.
Many congratulations to Lucy for organising us and creating such a fantastic event. It was an evening to sit back and enjoy, and that's just as a fellow performer. I think the audience really enjoyed it too! And many congratulations to Jacqui, for physically coordinating us so that we were not only in sync but for making each rehearsal a fun challenge.