Made in Dagenham is an inspiring tale about the fight for equal rights for women during the 1960s in Great Britain. The music is uplifting and plays with the styles of the time whilst the lyrics and dialogue are both comic and moving. This production was by Devizes Musical Theatre (DMT) for whom I had previously performed in the Movie Musicals concert and Jekyll and Hyde the Musical. Their enthusiasm and care for each other had impressed me immensely in recent years and I had seen the incredibly high levels they could achieve in their performances, especially during the Movie Musicals concert. So I was looking forward to being a part of this production.
The production was directed by Peter Nelson with Abi Ibbetson as Assistant Director and Stage Manager. It was Peter's overall vision and patient approach that realised this show with Abi's regular creative input and stage management giving it the additional touches that refined it and ensured it turned out brilliantly. Susan Braunton chivvied us along musically and made sure we were delivering the vocal lines before adding the extra dimension of the band.
My role in this was not really musical but was the character part of Mr Hopkins; the General Manager at Ford's manufacturing plant in Dagenham. For the protagonists of the show, he is a barrier to be overcome, along with the other senior managers within Ford, all of whom are men. Against all odds Rita O'Grady and her fellow strikers must convince the men of the TUC (Trade Union Congress) to agree to give the women at Ford equal pay.
On paper he is not a very likeable or flexible person.  Having listened to the soundtrack from the original 2015 West End production of the show, he has a dismissive upper-middle-class accent and a low patience threshold.  I listened to the show recording a lot when learning the lines until approximately a few months before the performances dates (April 2019).  This is because I found myself imitating the accent and losing the thread of my version of Mr Hopkins.
Playing Mr Hopkins in DMT's Made in Dagenham. Photo courtesy of Edith Cameron Photography
My Mr Hopkins
I decided to find a way into the character. I liked the idea of him as suave and believing he was in control of the situation. During the first soloist rehearsals the co-Director Abi was surprised by my approach but liked how relaxed the character appeared. We also established that he thought he was a good man and a model of how to behave, but he didn't think there was anything wrong in the way he treated women. In my mind, he saw himself as his generation's version the model business executive. James Marden's character in Anchorman 2 was one inspiration. This was Mr Hopkins v1.0.
As we began to get off-script we focussed more on the big chorus numbers, making sure the choreography and timing was energetic and effective. The solo parts were developed as part of running the overall show, so it was a bit like revisiting an old character when we ran the spoken scenes again. This is when Peter refined the actions and delivery of the characters to add to their impact in the scenes. Abi also liked the enthusiasm of my delivery during the chorus number 'Viva Eastbourne'. As the group of male Ford workers enjoyed a jolly at the seaside, Mr Hopkins seemed to be trying hard to be one of the lads. With this in mind, Mr Hopkins v1.1 was a little fragile, trying hard to be accepted at work, in spite of his lofty position.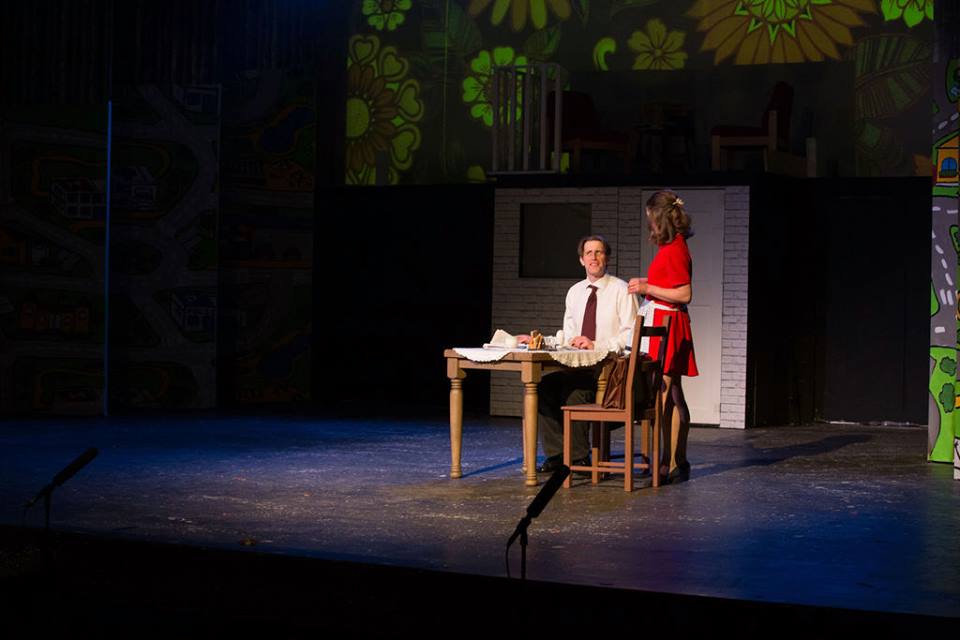 Mr Hopkin's wife was played by Lou and she delivered a fantastically dry and articulate performance, subtly turning up the pressure on her husband when he ignored her and going around him whenever possible. The dynamics in the scene between my character, Lisa Hopkins and Mr Tooley (played by Ollie) were great fun to play with. Mr Tooley is slimy and brash, Lisa is angry at both of them and Mr Hopkins is annoyed that his wife is interfering in office politics. Mr Hopkins v1.2 expects his wife to behave in a submissive way, but is constantly disappointed and subsequently irritated.
Show Week Tweaks
At the beginning of the Show Week Mr Hopkins v1.2 was more comic, and I still didn't have his accent down. At the start of the show he had a fairly flat Received Pronunciation accent that gradually became more pronounced as the scenes developed. I realised that I was reacting to certain words on the recording I had heard previously. For the scenes with his wife, Peter wanted him to sound posh in order to get the jokes across and I decided to try to give high a nasally voice and maintain it throughout the show. By the Wednesday performance, it had changed. It didn't feel right and felt too forced, so I gave him a more natural accent and made it smoother.
The other thing that changed during show week was his energy levels. Where he had previously been indifferent or passive, he became sharper and more angry as the performances progressed. Part of this was Peter trying to get more out of the scenes and the interactions between the characters, but the other was that I thought that my Mr Hopkins really didn't like losing control of a situation. When Lisa Hopkins disobeyed him he became irritated, when Mr Tooley came from America to take command he felt threatened. I really liked this added layer. The manager trying to steer the ship suddenly found himself adrift both at home and at work. In this way I felt sympathy for him. This was Mr Hopkins 2.0.
Reviews
It was interesting seeing how others saw the performances. Overall, the show was very well received. Lucy Burgess carried the show as Rita with a wonderful, bright voice and delivered the distress and determination of the character superbly. There were some technical issues at the beginning of the run (partly due to our insistence of wearing the microphones where we wanted) but the performances of everyone shined throughout.
As for Mr Hopkins, he played his part. One reviewer thought he was too nice (this was early in the run), and another liked my acting. For me, Mr Hopkins was a work in progress right up to the last performance. My Mr Hopkins was not a revolutionary, nor was he a villain. He was a product of his time, and was resistant to change and his perceived status at work and at home.